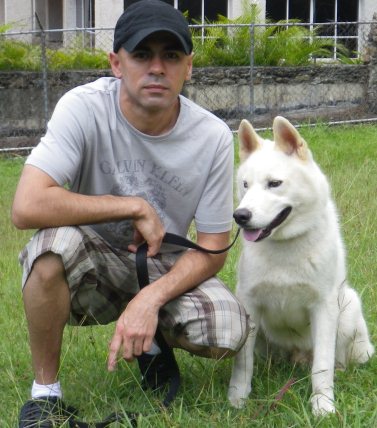 Carlos Cruz - Duke
Duke is a Siberian Husky and it´s the first dog i've owned while living in apartment.

It was imperative that he'd get the proper training so that friends, co-workers and neighbors felt relaxed knowing that he was not make a mess in the stairs, elevators, or wake anyone up with the barking.

Additionally, he is a very friendly and active breed, so socializing was the best decision for him at such a young age.

His training started when he was almost 3 months old, which is the perfect age for basic training commands. The training has been great because it helped me create a bond between both of us.

I have also learnt his behaviors and canine signs, meaning that i now am able to differentiate good from bad or escalating unwanted behaviors.

Rafael and Carlos have been of great help on Duke's training success. They both enjoy their job and have a great passion for understanding and helping animals in need of guidance and, not to forget, we also are in need when bringing a new pet into our busy living schedule.

Their doggy care is an excellent place for any pet accommodation and i assure you that your pet will like it. I am extremely pleased with the results obtained from level I and can not wait to commence obedience level II.

Thank you very much.